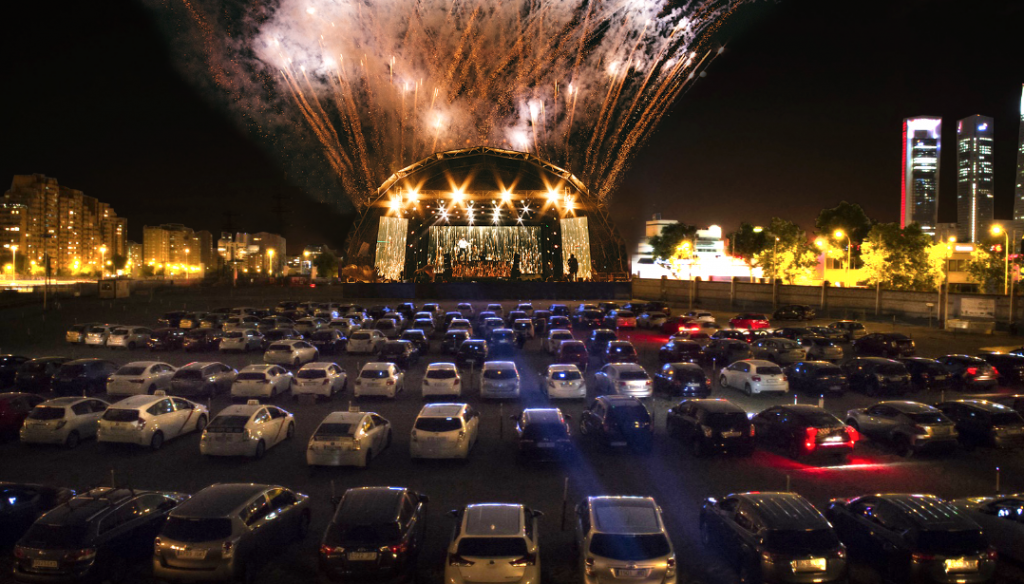 It's undeniable that 2020 has sent tidal waves through the music and concert industry, with COVID-19 drastically changing the face of live entertainment via governmental physical distancing measures that have sparked tour cancellations worldwide and have left fans, artists and venues alike wondering what the future holds for the arts. As the globe has adjusted to these extraordinary circumstances over the past four months, it has become more and more apparent that for the live entertainment industry to survive, it will need to call upon the resourcefulness and creativity of its members to innovate a path toward a sustainable new status quo. For many artists and acts who haven't had the opportunity to perform (or a source of revenue) since March, it's a case of desperate times calling for desperate measures, and several of music's more industrious and intrepid performers have used the opportunity to set out entertaining fans via a variety of other means and channels.
For those who miss the buzz of live shows, a new solution is being offered in the form of drive-in concerts. Country star Keith Urban was one of the first artists to jump on board with the new entertainment trend, which saw him perform for roughly 200 front-line medical workers from Vanderbilt University Medical Center at Watertown's Stardust Drive-In in Tennessee, back in mid-May. Since then, several other country artists have followed suit, including Garth Brooks, Brad Paisley, Darius Rucker, and Jon Pardi, with Brooks commenting of his show:
"This drive-in concert allows us all to get back to playing live music without the uncertainty of what would be the result to us as a community," the country star said in a statement. "This is old school, new school, and perfect for the time we are in."
It's not just the country music scene that has turned to drive-ins as a solution to live music's current predicament, with a diverse range of artists across genres hopping on the bandwaggon, from electronic musician Marc Rebillet to indie darling Andrew McMahon. And the phenomenon isn't just limited to existing drive-in venues either, with pop-up drive-ins materializing all over the US in parking lots, empty concert venues, stadiums, fields and a variety of unexpected places. The format has also been used to stage comedy shows, movie screenings, theatre, and more.
The practicalities of such performances vary from event to event, but most combine physically distanced screenings or stage set-ups with sound pumped through car speakers via radio channels (with up to four passengers per car), and for some shows the option to use fold-out chairs outside vehicles in allocated spaces is offered to attendees. Many shows also provide the usual trappings involved with a concert, including food, drink, and merchandise, and physically distanced access to restrooms as well as safety measures such as hand sanitizer.
Still in its early stages, this experimental take on live entertainment has been trialed all over the world and looks to be a popular reimagining of the traditional concert experience for the time of pandemic, with hundreds of drive-in shows rolling out this summer.
Interested in the Drive-In Concert series?
You can get your tickets from Ticket Squeeze here: Drive In Concert Tickets
So, what are your thoughts? Is this retro resolution the unlikely savior of an industry in crisis? Will nothing compare to the thrill of a crowded, sweaty venue? Or is there another alternative? We'd love to know where you stand in the uncharted territory of drive-in events!
Leave us your comments below.