Outdoor festivals are best way to experience music in 2021 pandemic. Outdoors is better than indoors and if you've never been to a festival before then this is your golden opportunity, we went ahead and curated some of the best festivals in America, that should, probably still happen this year! Whether you are into Rock, country, hip hop, pop or EDM this is your go-to breakdown list of the biggest festivals, most likely to happen in 2021.
November 12th to 14th – Tinker Field, Orlando, Florida.
EDC is the largest electronic dance music festival in North America. With a part of the overall experience being the incredible three-dimensional superstructures, colourful glow-in-the-dark environments, and LED-infused flora and fauna. With a variety of carnival rides, Ferris wheels and at leased eight different stages, circus-style performances and all of the top EDM DJs from all over world, you will never be bored, or even have enough time to see all of this carnival over the three days! Meet the merry bands of Funkdafied Freaks—the dancers, stilters, aerialists, circus performers, and other whimsical characters of EDC! Decked out in over-the-top costumes crafted specially for Insomniac, this motley crew will enchant you, astound you, and play with you all night long. Arrive a few days early for the Las Vegas Carnival, the entire week before is devoted to pool parties and club nights all along the infamous Las Vegas strip.
July 10th to 13th – Burroughs and Chapin Pavilion Place, Myrtle Beach, South Carolina.
Grab a cowboy hat and a pair of flip-flops, as country music meets the scenic shores of Myrtle Beach when the boardwalk becomes home to the Carolina Country Music Fest! This year's headliners, Luke Combs, Eric Church, Darius Rucker and Jake Owen, are sure to get your feet tapin'. A celebration of country music, vibes, lifestyle and most of all a celebration of America. It's got rig toss, mechanical bull rides, line dancing, cowboy boots, flags, ditsy dresses, acoustic guitars, outside grills, fireworks and of course some Tennessee whiskey you will find something to love at Carolina Country Music Festival.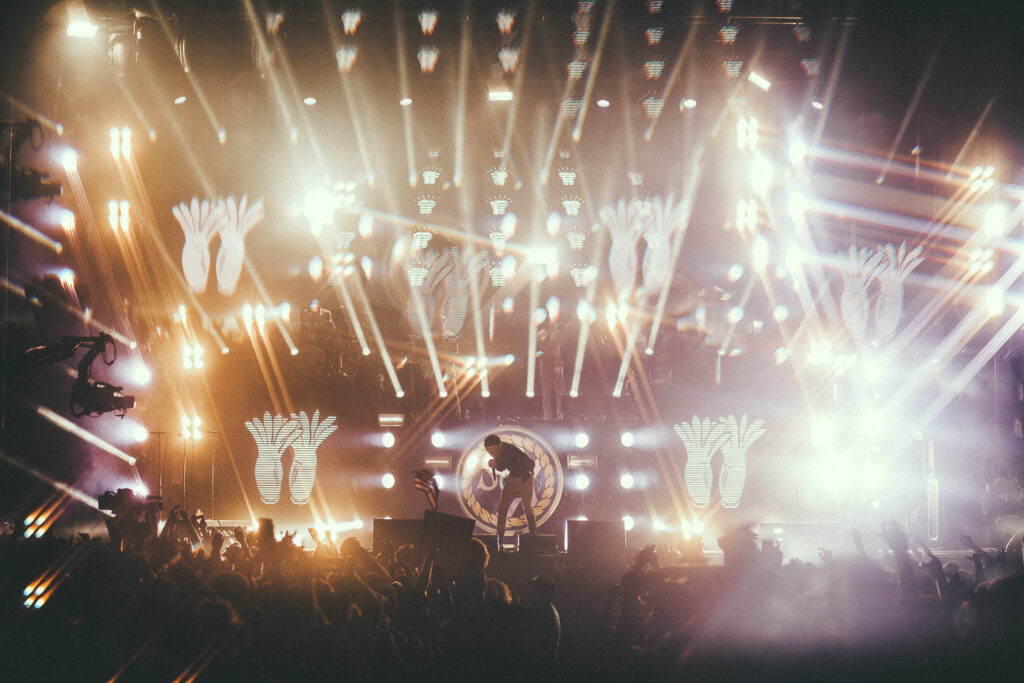 July 16th to 18th – Union Park in Chicago, Illinois
Pitchfork Music Festival is where you go for cutting edge new music, if you are looking for something brand-new and fresh as a daisy, it's here. As one of the leading voices in the musical landscape, you know that this is going to be an outstanding festival. Pitchfork Music Festival is the multi-genre festival in Chicago. Annually putting together a lineup of genre-defining artists from Alternative rock, indie rock, electronic and hip hop, although it has also ranged into hardcore punk, experimental rock, and jazz in its lineups. You may not recognize most of the names on the lineup poster, but if it's curated by Pitchfork, then these artists are definitely worth checking out.
September 23rd – Dover International Speedway
The east coast's largest music and camping festival blends live performances from acts you love, all with onsite camping to add to the fun. It's the summer festival experience you and your friends won't want to miss. The line-up always has a lot of hip hop, indie rock, electronic music and alternative music as part of the weekend. For other entertainment and activities there's The Brewery for Firefly Ale and craft beer, The Thicket to dance in the Silent Disco, The Nook to rejuvenate and chill — you can even use your hammock. Use The Pathway to go from stage to stage or experience the woods, Camp Riunite lets you chill out with a glass of wine, and Malibu Beach House has cocktails.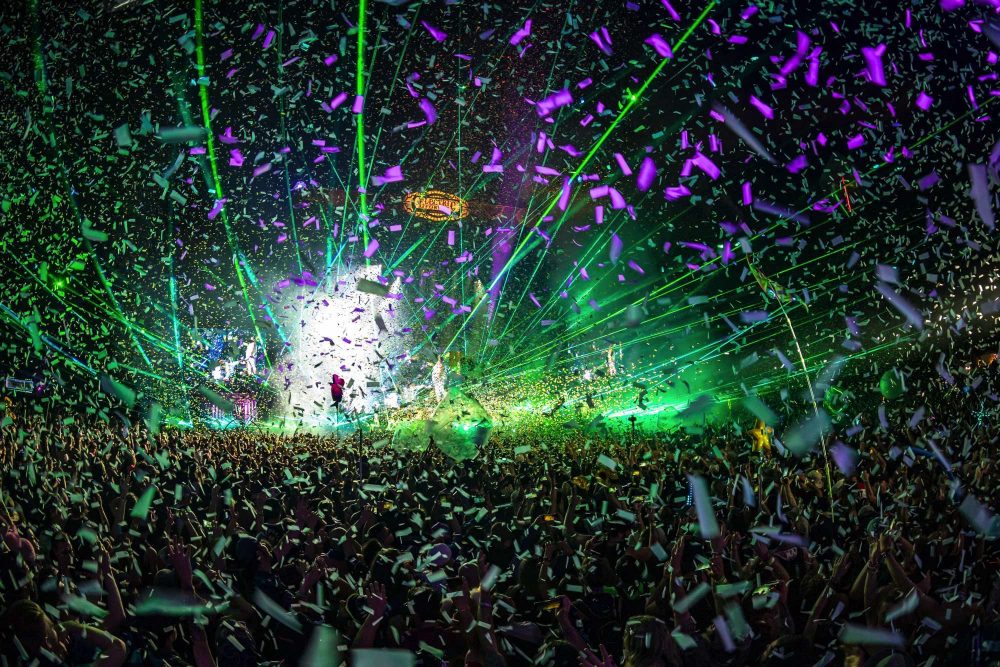 June 25th to 28th – Montague, Michigan.
A four-day, multi-musical multi-sensory extravaganza! Electric Forest is about the music as much as it is about the setting. The organizers curate a mind-melting array of world-famous DJs, jam bands, house music, trance, dubstep, electro and more!. Artists tend to thrive in the live setting, which features incredibly orchestrated light shows, stage sets with mechanical blooming flowers and other surreal embellishments. Most sets are long, sweaty dance-a-thons that leave the audience clamouring for more. Electric Forest is a music, art and camping event, so there's a lot going on besides just music performances. All set in the extensive forest area that comes alive with lights, and is a combination of art, music and being socially conscious.
July 29th to August 1st – Grant Park in Chicago, Illinois.
Lollapalooza definition is – an extraordinary or unusual thing, person, or event; an exceptional example or instance. Well, that's Lollapalooza in a nutshell alright, technically it's a rock festival, but it will have lots of variety, in the form of alternative rock, punk rock, heavy metal, pop, hip hop, electronic and soul. Lollapalooza also provides a platform for non-profit and political groups and various visual artists so expect some talks and other random tents in the park. Lolla celebrates the best in local life, grab some of Chicago's best food, handpicked from local restaurants, or a craft beer made locally, or maybe just a wine pop… and choose from one of the eight live music stages to chill out and listen to the acts. The energy is high and contagious and there is always something to do. Oh, expect it to be hot, right in the heart of Chicago, yeah, bring some water.
September 2nd to 5th – The Bonnaroo Farm, Manchester, Tennessee.
"Bonnaroo" is Creole slang for "Good Stuff" and wow, there is a whole lot of good stuff to do here, plazas are strategically located all over public spaces throughout the campgrounds for everyone to gather, explore art & other activities. What's better than a parade? NOTHING! Marching to the beat of your own drums, then align your mind, body and soul by participating in one of several yoga sessions taking place across The Farm. Take a walk around the grounds, you will find Ferris wheels, waterslides, a market and lots of other activities. Bonnaroo features a diverse lineup of 150+ musicians and more every year. With 10+ performance stages, 4 campground party barns, and entertainment that goes ALL NIGHT LONG, you will NOT be bored.
September 3rd to 5th – Randall's Island, New York City
Are you ready to have your mind blown in a complete out-of-this world experience? All Cosmic creatures, astral aliens, intergalactic illusionists, supernatural wizards, shamans, witches, and extraterrestrial beings gather for a once in a lifetime experience on Randalls Island, in the heart of New York City. With 100+ of the most talented artists and otherworldly characters roaming the land. This is an adventure you DO NOT want to miss out on. Electric Zoo: Supernaturals is a mystical encounter which plans to twist and turn your mind in ways you never could have imagined of before. A stellar other worldly experience consisting of spiritual pandas, mystical entities, cosmical unicorns, astral enchanters, and spellbinding sorcerers just to name a few… Also, its an EDM festival, so enjoy the weirdness.
September 24th to 26th – Citi Field – Flushing, New York
Gov Ball is an all or nothing kinda deal, except it's just all and absolutely no nothing, the only criteria an artist needs to meet is being talented and being able to put on a hell of a show, from rock, electronic, hip-hop, indie, Americana, pop, folk, jaz, blues and more and everything else in-between, if that's not enough, there's also lawn games, indoor games, outdoor games, food trucks to go along with all the music, this really is a festival of New York exuberance, come rain or sunshine the show will go on. With 60 plus different artists with the intention of having as wide and as diverse line-up as possible, massive crowds and an incredible energy.
October 22nd to 23rd – Mana Wynwood, Miami, Florida.
III Points is a three-day festival in Miami that explores the intersections between art music and technology. Six stages will host this year's lineup with cutting-edge audio visual technology and unique immersive environments. Unforgettable performances by an eclectic list of up-and-coming music acts and renowned artists from across the globe. immersive, glowing environments to large-scale murals and live graffiti, III Points is an oasis of art and culture. This years headliners are The Strokes, Wu-Tang Clan, Eric Prydz, Kaytranda and Zhu with more to be revealed soon, other top-billed acts 2021 include Khruangbin, Three 6 Mafia, Arca, Green Velvet, Virgil Abloh, Bedouin, Marc Rebillet, Washed Out, Michael Bibi, Devendra Banhart, Crumb, Moses Sumney, Ariel Pink, Alex G, Mall Grab, and many, many more.
Oct 1st to 3rd and Oct 8th to 10th – Zilker Park, Austin, Texas.
Inspired by the KLRU/PBS music series of the same name, the end of summer doesn't mean the end of the celebrations in Texas. Over 100 bands take to eight stages to entertain nearly half a million people over two full weekends. ACL has 35+ local food vendors and the ACL market features favourite local artisans and their wares. This is a pretty wild experience and if you are pretty open minded you will have a great time. Artists who have played at the festival include Metallica, Red Hot Chili Peppers, Depeche Mode, The Cure, Arctic Monkeys, Guns N' Roses, Tame Impala, Robyn, Arcade Fire, The Rolling Stones, Muse, Vampire Weekend, The Flaming Lips, Radiohead, Nick Cave and the Bad Seeds, Pearl Jam, Foo Fighters, and many, many, so very many more artists of every musical genre from rhythm and blues to rock, jazz, and alternative.